snippy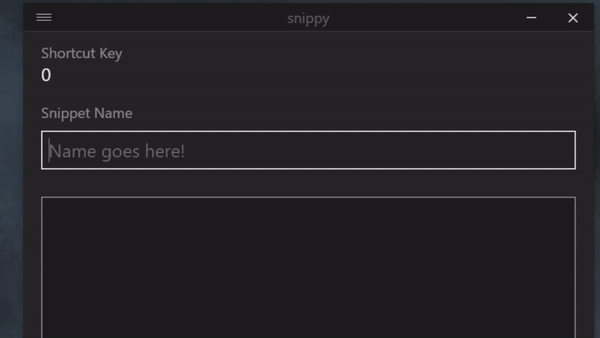 snippy is a free tool for GameMaker Studio 2 that allows you to edit the default code snippets for the IDE.
What is it for?
The default code snippets are seldom used by most developers, but by being able to edit them to hold whatever code you want, code snippets can now be a critical part of your workflow!
How do I use it?
Open snippy (you may need to grant administrator permissions)
Set the directory of your GMS2 install if it is not found automatically
Select which shortcut to edit, and create your snippet!
When you're done, save your changes with the menu at the top left
Anything else?
To denote the region that should be automatically highlighted when loaded in GM, simpily surround it with vertical bars |like this|!
Contact
For any issues or concerns, please leave a topic on the forum, or contact lazyeye at imlazyeye@gmail.com

Download
Click download now to get access to the following files: